A look back on 2022... And plans for 2023!
A look back on 2022... And plans for 2023!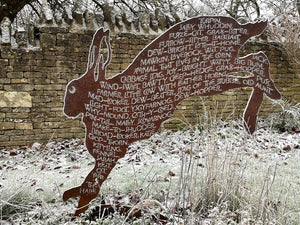 Whilst planning for 2023 we've had the opportunity to look back on 2022, not something we often get the chance to do whilst in the thick of it. And what a year it was!
We launched new artwork such as 'The Names of a Hare - Leaping Sculpture' (pictured above*) and the expanded, hugely popular, Pot Stems collection (below).
We exhibited at 19 shows, meeting hundreds, perhaps thousands, of you throughout the year - including Johnny Ball and Paul, the Chelsea Pensioner, who both visited our stand at RHS Chelsea Flower Show 2022.
We designed commissioned artwork for a Public Art Project and award winning show gardens, collaborating with both Shaun Beale and his team at Longstock Park Landscapes, and Perennial. We won many RHS tradestand stars and, for the first time, a "Best Dressed Chalet" award at Waddesdon Christmas Fair.
And, behind the scenes, we took on a Wildflower Meadow Restoration Project, with Genny completing her MSc in Conservation Ecology with a Distinction!
2023 is looking to be equally as busy but fun. Due to the phenomenal feedback on the Pot Stems we are developing a range of Garden Stems for year-round garden use (sneak preview of a prototype below!) And we have some very exciting retail news to share... Both coming soon! Join us on Instagram and facebook for regular artwork updates and event news. 
We've updated the list of events we will be exhibiting at throughout 2023, so we hope to see you again soon at an event. As ever, thank you for supporting our small business.
*With thanks to Paul for his lovely photo of 'The names of a Hare' Leaping Sculpture in the frost.