'The Longstock Way' Showcase Garden at BBC Gardeners' World Spring Fair
'The Longstock Way' Showcase Garden at BBC Gardeners' World Spring Fair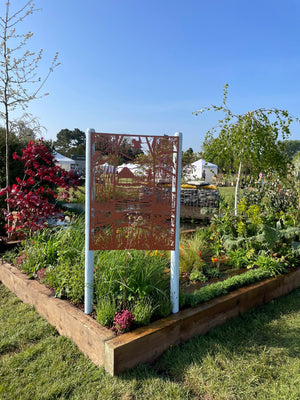 At the BBC Gardeners' World Spring Fair at Beaulieu in April 2022 we were delighted to collaborate with Shaun Beale, Nursery & Landscape Manager at Longstock Park Landscapes (part of the Waitrose & Partners Farm on the Leckford Estate), on 'The Longstock Way' Showcase Garden.
The garden took "...inspiration from a footpath called The Test Way. This 44-mile walk follows the river Test passing through the Leckford Estate along a disused railway line that used to link Southampton to Andover."
Shaun asked us to design a screen to reflect the garden's theme - and this is it!
Each section of the screen features native species found and maintained in the habitats around the Leckford Estate. These include: the Bittern, Reed Warbler, Kingfisher, Mayfly, Trout and many more! 
The River Test, Leckford Estate, Wall Screen is 75cm wide x 100cm tall and is initially only available in one size but please do email us (info@ablackbirdsang.co.uk) if you wish to buy a different size. Available in both powder coated copper and dark grey options. 
We are developing smaller detailed pieces from this screen, commencing with a Circular Wall Art of the 'Trout rising to Mayfly' (also available in both copper and dark grey options, it is 30cm in diameter) - above right.
Congratulations to Shaun (above) and his team at Longstock Park Landscapes as 'The Longstock Way' was awarded Best Showcase Garden at Beaulieu!
We welcome commissions for gardens and parks in both public and private spaces, so please do get in-touch if we can work with you to design a piece of bespoke nature inspired artwork for your project or space.
info@ablackbirdsang.co.uk or 01993 891030.