Public Art Project: Willow Leaf Bench in Stonesfield, West Oxfordshire
Public Art Project: Willow Leaf Bench in Stonesfield, West Oxfordshire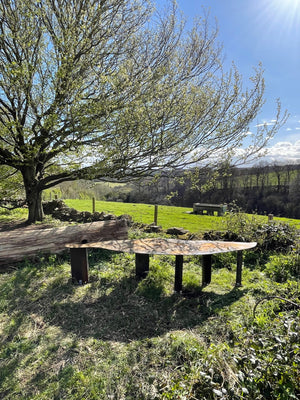 This bench was commissioned by Stonesfield Parish Council (funded by S106 developer contributions to improve social infrastructure) as a functional public art piece. An original concept by Genny, the willow leaf measures 2.4 metres in length. It features a local (to Stonesfield) stretch of the winding River Evenlode, a tributary of the River Thames. 
Also included are lines from Hillaire Belloc's poem The Evenlode:
"The tender Evenlode that makes
Her meadows hush to hear the sound
Of waters mingling in the brakes,"
Installed in Spring 2022, the bench looks south over the Evenlode valley, the meandering river and its natural floodplains. It is cut from corten steel to contrast with the natural green of the ground and landscape.
We hope both Stonesfield residents and passers-by from further afield will take a moment to enjoy the bench (what3words location: pushes.duke.trudges, view on map here.)
With so much focus on the health of our rivers at present, this was a fantastic opportunity to draw attention to the beautiful River Evenlode, not only the river itself but the surrounding valley, and the fantastic ongoing work that groups such as the Evenlode Catchment Partnership are doing to restore the health of our rivers and surrounding floodplains and wetlands.
The bench was laser-cut and welded by Precision Sheet Engineering of East End, less than three miles from where the artwork has been installed, making this a truly local art project.
If you have a public, or private, art commission in mind, please do get in-touch. Email us on info@ablackbirdsang.co.uk, or call us on 01865 600926.