RHS Chelsea 2022: Our stand's planting
RHS Chelsea 2022: Our stand's planting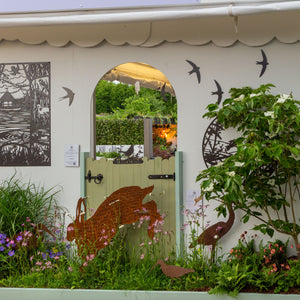 We've had lots of lovely compliments and questions about the planting on our stand at RHS Chelsea Flower Show 2022. Designed, supplied and installed by Shaun Beale and his colleagues (Ben and Mandie) at Longstock Park Landscapes & Nursery (Leckford Estate), here's some close-up photos and a little more detail on some of the plants featured:
The flowering dogwood (above), with the white bracts, was a Cornus florida. This small tree, or large shrub, is perfect for year round interest, with white or pink bracts in spring, followed by orange/red fruit and with colourful (red/purple) leaves in autumn. There was a few of these on display in the Chelsea Show Gardens this year!
The wildflowers, through which our 'Names of the Hare' Leaping Sculpture was running, was a wildflower turf (see above) supplied by Wildflower Turf and grown on by Shaun and his colleagues, before being installed.
Finally, the pink geum we had inside the stand (above), intermingled with ferns (both real and metal), was Geum 'Pink Petticoats', a compact geum with delicate frilly petals and a yellow centre.
With thanks to Shaun Beale for all of his time, help and advice, and Eleanor Walpole Photography for these lovely photos of the plants and the stand.