RHS Chelsea Flower Show 2023: A year of firsts…
RHS Chelsea Flower Show 2023: A year of firsts…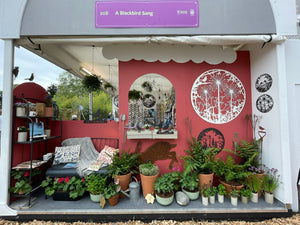 RHS Chelsea Flower Show 2023 saw a number of firsts in the prestigious Flower Show's history… A first visit to the Show as King for the newly crowned monarch, King Charles III - Tony caught a glimpse of him admiring the Hostas in the Grand Pavilion!
The first wedding on a Show Garden, with the designer of the RHS and Eastern Eye Garden of Unity, Manoj Malde, marrying his long-term partner, Clive Gillmor, in front of family and friends in the brightly coloured Feature Garden designed to highlight community, diversity and inclusivity.
The Savills Garden was the first ever Show Garden at RHS Chelsea to include a working kitchen set within a walled garden (all built from scratch in 5 weeks!) The on-site chef picked fresh ingredients ('edimentals') from the garden to provide lunch for 8 Chelsea Pensioners within the garden's adjoining dining area every day of the Show.
The Fauna and Flora Garden featured a gorilla's nest set amongst bamboo (definitely not seen at Chelsea before), highlighting the success of the International Gorilla Conservation Programme. And in the Grand Pavilion (which spans a whopping 3 acres, the equivalent of 63 average size British gardens), mushrooms and Koi Carp were on display for the first time in the Show's history.
We were very fortunate to be just a few metres away from the beautiful Best in Show Horatio's Garden, with Genny spotting this lovely combination of unusual yellow aquilegia and blue campanula on the Show Garden. 
Firsts for us? Tony read (and sang!) excerpts from the new 'River' book to visitors and we launched (and sold out of) our new range of Tea Towels, part of an expanding range of A Blackwell Sang homeware.
If you visited RHS Chelsea Flower Show 2023, we hope you enjoyed it as much as we did! Thank you, as ever, for supporting our small business.
Genny & Tony