RHS Chelsea Flower Show 2021: What a joyous event!
RHS Chelsea Flower Show 2021: What a joyous event!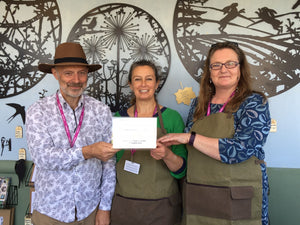 We have just returned from a truly wonderful (and very tiring) RHS Chelsea Flower Show 2021. Postponed from May 2020, RHS Chelsea 2021 was a historic event: Held, for the first time in its 108-year history, in September. Despite the challenges this posed to designers and growers, the planting throughout the Show site was beautiful: a strong naturalistic planting theme with masses of perennials (definitely the year of the Echinacea!) and grasses. There were also two clear messages running through the gardens: Hope and Sustainability. 
Pictured left and below is the Finding Our Way: An NHS Tribute Garden which, amidst the hustle and bustle of Chelsea, was a haven of calm. Hidden within the planting, the garden was connected by a series of rills and pools. The plants from this garden have now been donated to Katherine House Hospice, a charity just a few miles from us here in Oxfordshire, for staff, patients and their families and visitors to enjoy.
Two new garden categories for 2021 were the Balcony Gardens and Container Gardens. Below is the Pop Street Garden "…a space to jump-start the transition from 'lockdown to on-the-town'." An innovative riot of colour, encompassing traditional and tropical planting alongside Pop Art and Street Art!
And another new feature was the
House Plant Studios
.
The Green Room
featured a contrasting colour scheme of bright green and shocking pink, and glitter balls, the "…ultimate VIP houseplant hangout!"
There were a number of installations throughout the site and one of the most eye-catching was
'Delays Expected' (2021)
"…a steel forest shell hand cut into the walls of a repurposed transit van."
Understandably the Grand Pavilion had fewer exhibitors than in previous years. Instead, to reflect the autumnal timing, there were beautiful harvest displays with apples, chillies, dahlias, gourds and pumpkins.
Anything that was lost, or different, due to the Show's September timing, was more than made up by the new show garden categories and the joyous feel of the whole event. It was so lovely to be back exhibiting at Chelsea, and to witness friends and family members meeting up, huge smiles on their faces, everyone just so pleased to be able to be there. We met a family whose members (a mum and her three grown-up daughters) had travelled from all over the UK, hundreds of miles, reunited, to enjoy a day out together at Chelsea. The sentiment of hope created in the gardens was reflected in the visitors' smiles. 
We were delighted to be awarded another RHS 3-star award to go with our award in 2019. Pictured below, left to right, is Tony, Genny and our friend Jane, whose help is invaluable at these larger events. Thanks also to Jess Huband, The Marketing Gardener, who, when not tending gardens in our local area, manages our social media. Big thanks to Julie Brinkworth for all her packing and humour! And finally thanks to Richard Burton's wood skills for helping build, set up and breakdown with such ease. 
Another unexpected benefit of Chelsea being in late September was the interest in our Christmas designs. (We don't get that at a May Chelsea!).  Mistletoe, Holly & the Ivy, Partridge in a Pear Tree, and Ding, Dong, Merrily on High all flew off the stand.
So, that's Chelsea done for another year! But thankfully, we only have to wait 8 months for the next one (24th-28th May 2022). 
Thank you everyone who came to our stand and gave us such lovely feedback, especially the visit from an existing customer whose bespoke order of Turn your face to the sun leaf quote has resulted in us now producing and selling this design as part of our 50+ leaf poetry / leaf quote range. There is such a lovely story behind this that we will share it in another blog post where we can dedicate more time, and photos, to it. 
In the meantime, as we're following-up on the post-Chelsea enquiries, we're planning for our next exhibit: Waddesdon Christmas Fair, where we will be exhibiting from 13th November to 12th December. Hope to see you there! 
Genny & Tony, 6th Oct 2021
Jess the Marketing Gardener