Fixing A Blackbird Sang Wall Art pieces
Fixing A Blackbird Sang Wall Art pieces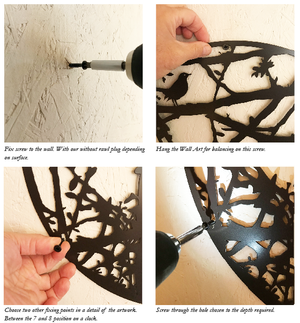 There are some things we often asked about. This is one. What's the best way to fix your work to a wall? To help with this we've made a brief guide. Hopefully this helps with the displaying our work to the best advantage in your home or business.
The main thing to decide is how many fixing points - we recommend at least 3 at roughly 12, 4 and 8 o'clock positions or 120 degrees apart. One of the nice potentials is to have shadows from the design when lit by the sun or artificially. To achieve this you can use metal hollow spacers or standoffs which
For a link to the guide click here.